Our Mission
Cancer affects all of us. Who among us hasn't known someone who has battled cancer? Cancer leaves scars – physical and emotional – on its victims and their loved ones. And too often, people we love die from cancer. We paddle for every person who has heard the words, "You have cancer."
The mission of the Castaways Against Cancer is to help find a cure, by raising funds for great cancer fighting organizations like the American Cancer Society, and to honor those who have fought the fight.
It's that simple. We kayak, you donate and we all pray for a cure.
To support the fight, please click DONATE.
About Us
The paddlers who make up the Castaways Against Cancer are a diverse group from all walks of life.
Our team has featured teachers, firefighters, lawyers, bankers, scientists, logistics experts, non-profit executives, restaurant-owners, accountants and even celebrity wildlife experts.
We live all over. Paddlers have lived all over Florida, as well as, Texas, North Carolina and New York. Most have roots or connections to South Florida, but all have come together for a common goal.
We invite you to get to know our crew and learn more about the history of the Castaways. See for yourself how one man's passion and vision brought together a group of strangers to form this amazing team.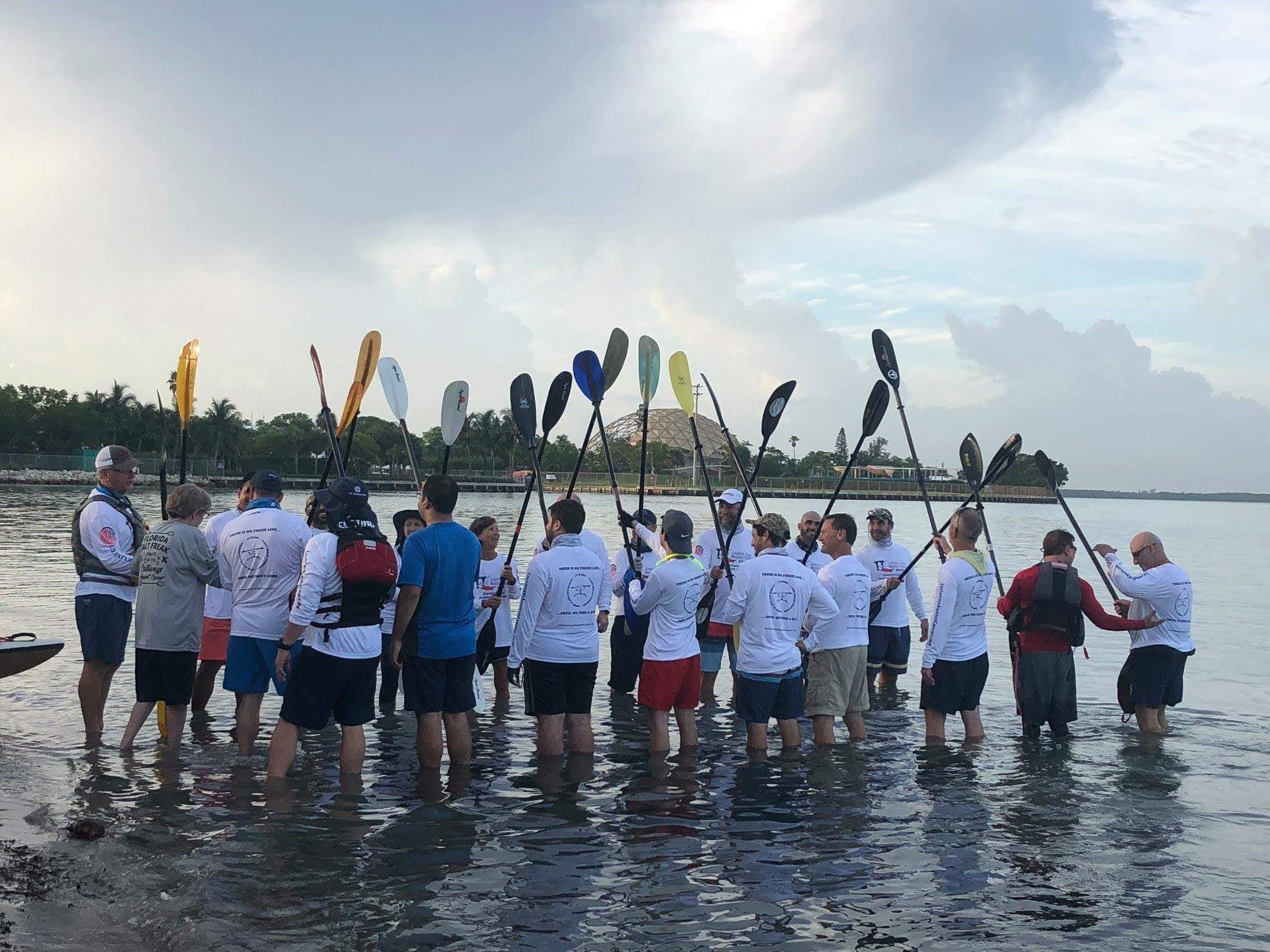 FREQUENTLY ASKED QUESTIONS
How did this all begin?
It began as one man and a dream. A complete history of the Castaways and how it all began can be found here.
Why do we see the team salute with their left hand?
Your left hand is closest to your heart and your right hand should be holding a drink. That's at least what we learned from the Conch Republic Navy.
In 2004, a meager team of six Castaways crashed ashore on Key West and was recognized for its efforts by the Conch Republic Navy (CRN) by being inducted into their ranks.
In 2011, the CRN realized that the team of misfits that invaded their waters each summer for over ten years was not giving up the fight and gave the Castaways the official designation of: Flotilla of the Northern Territories.
The Castaways are proud to be a part of the Conch Republic Navy. Our beliefs are the same in that despite adversity, you fight with all your heart, you honor those who stand up for what is right, and a little humor might just see you through it all.
How far do you paddle each day?
We paddle roughly 160 miles. That breaks down to:
Day 1 - 22.3
Day 2 - 27.0
Day 3 - 21.4
Day 4 - 26.1
Day 5 - 22.2
Day 6 - 20.6
Day 7 - 18.4
How long does that take?
It depends on the weather - if wind, waves and current are with us or against us. But our days run from seven to 14 hours on the water (with breaks, of course).
Do you sleep on the boat? / Where do you sleep?
At the end of the day we do stop on dry land. In the early years we would camp just about every night. Over the years we have acquired sponsors that have graciously donated hotel rooms for us to stay in at night. We currently only camp one night (on Elliott Key) and subsequent nights are all in hotels.
How do you prepare?
To prepare physically, many of the team spends a great deal of time on the water practicing our endurance. Some actually have gym memberships where they practice core and upper body workouts. But in the end, this trip is more mental than physical, so we listen to Bob Linfors lectures.
Do you have a chase boat?
No. Our crew does not depend on a chase boat for supplies or emergencies. We do, however, have a chase vehicle that follows us through the Keys. They travel ahead of the team and check in at our various destinations. They also pick up various items like water and sports drinks to replenish our supplies so we don't have to carry a week's worth of Gatorade and water.
How do you go to the bathroom?
Some things will just have to remain a mystery. For now we'll say... very carefully.
How far out to sea do you go?
Our route through the Keys takes us through back bays, channels and out into the Atlantic. The furthest we ever get from land is only a couple miles. However, on the first day of the trip we are actually five to ten miles from any help or civilization.
What type of kayaks do you have?
While the brands and styles differ (wood, polyethylene, fiberglass, and Kevlar), the team paddles open water closed cockpit touring kayaks (18' - 22' long).
What hurts the most?
Depends on the kayaker. Some say shoulders, some say lower backs, some say hands, but it is safe to say everything. Some days everything hurts.
How can I join you?
Quite possibly our most often asked question. It makes us very excited to have so many of you want to pick up a paddle and join us in our fight. Currently, we are not recruiting new Castaways as our team is made up of 15 active paddlers and we are limited to the number of people we can squeeze into hotel rooms. Additionally, there is a safety concern of keeping a team of 10+ kayakers together on the water. However... if you want to paddle with us during the week, we offer a few select spots where you can join us in our Castaway For A Day program.
Are you a non-profit?
The Castaways Against Cancer are not officially a 501(c)(3) organization. We are, in the simplest terms, a Relay For Life Team for the American Cancer Society Lower Keys Division.
SO, YOU WANT TO PADDLE WITH THE CASTAWAYS?
Dear friends of the Castaways Against Cancer,
Many have asked to join us on the kayak mission from Miami to Key West. For safety, we limit the number of paddlers who can take part in the entire adventure. It's a major commitment and not something to take lightly. But we do allow those who are willing to commit to participate in our "Castaway for a Day" program.
Choose your fate:
Day 1 – Launch to Key Biscayne Lighthouse a fun 7 mile trip paddle from Virginia Key to Bill Baggs State Park. You get to experience of the launch ceremony and the opening leg of the journey – to the team's first break spot.

Day 3 - FBO to Dusenbury Grottos a fun 7 mile round trip paddle from Floriday Bay Outfitters in Key Largo to the famed Dusenbury Grotto - once through the Grotto, you will need to paddle back to FBO as the team continues on to Islamorada. *Highly Recommended*

Day 3 - FBO to Holiday Isle a 17 mile paddle from Key Largo to Islamorada through some of the most beautiful stretches in the Keys. *Highly Recommended*
By taking part in Castaway for a Day, you agree to the following:
You must be 21 and up.

First come first served! We have a limited number of spots and have the right to turn down any applicants.

Paddlers are expected to raise a minimum of $500 for the ACS. Details how will be provided.

Our number one concern is your health and safety – it is expected that you've had a physical in the last 6 months and that you are an experienced paddler

We request that you take part in one open water kayak rescue course and be capable of maintaining a pace of 5mph for at least a mile.

You agree that the Castaways Against Cancer and American Cancer Society are not responsible for any problems or accidents.

You will need to sort your own logistics, however, we will assist you in figuring it all out.
Scared yet? Good. If you're still interested then visit our Castaways Against Cancer - Facebook Page and send us a message.